Interpack 2014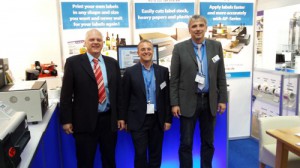 Together with Primera, Epson and VIP Color, Karley was an exhibitor at the Interpack 2014 in Düsseldorf.
At our booth you had the chance to see and test the label printer and label dispenser like the CS1200 and AP 362e from Primera
or the TMC 3500 from Epson or the VP495e from VIP Color.
Karley is a distributor for all those Manufacturer and we're happy to find the right printer/dispenser/rewinder/unwinder for your company or your need's.
We also sell the consumables like ink catriges or label's.
You're looking for a special label and nobody can help? Our sales team would be happy to help to find a solution.
Karley also is currently translating all the information/help documents from german to english therefore
if you need a english version of a Manual for example, contact us.
What is Karley doing?
Karley is a programming company For many years we are programing custom software for CD/DVD robotic systems and cash registers. You can find some of our software atwww.dvd-roboter.com. New is our Software for Label printing and RFID Systems. Because it is in main parts a custom software, please ask if you have any problems with some hardware that we sell and you need a custom solution. Within Germany we do also develop a number of big internet shops. Starting from one man companies up to 50 people that work with that shop – we have the experience for years.
Karley is a distribution company As there were not alle products available that our customer needed in projects, we decided to import some products. This department has grown, so that we are now distributor for some important manufacturers and sell this products to local dealers.
Karley is a service company For many years, we do service in our local area. This services contain simple computer and networks services, but are not extended to a 2nd Level support even for our distribution products. At least one technician is trained on a special disctribution product, like the VIP VP485e printers or the CDT-1600-C printers and can in that way support our clients and resellers, that often have not this special knowledge.